When Is an Online Will Platform a Good Fit?
By Erin Bury, CEO, Willful |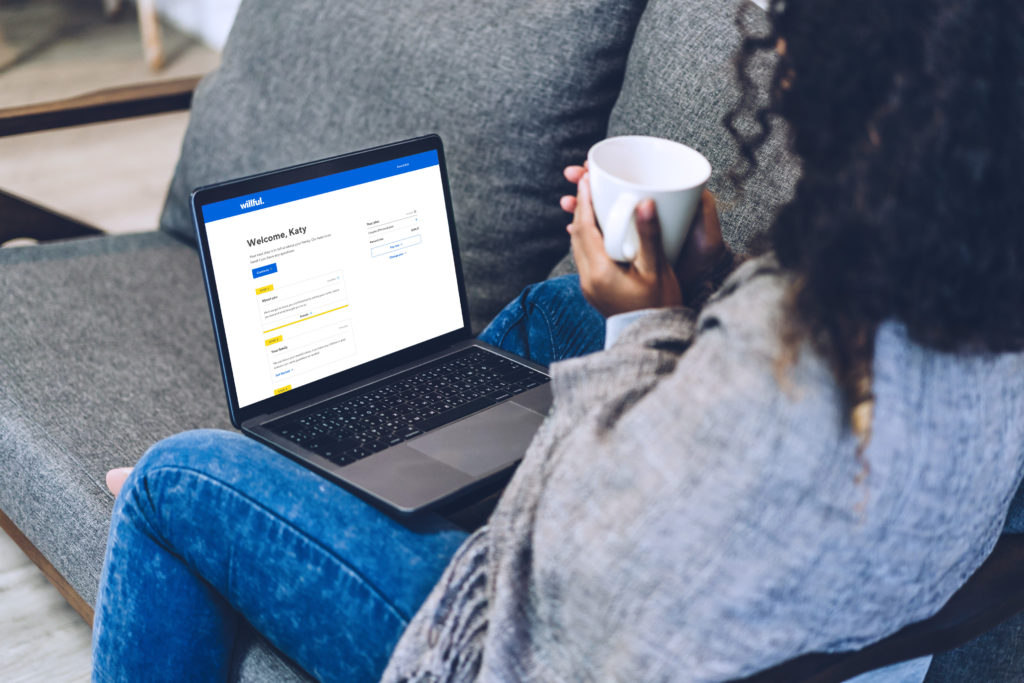 The range of ways in which to create a legal will has expanded over time. From the holograph Will that is written by hand and can lead to contradictions and errors, to estate lawyers who specialize in customized documents that meet complex needs, to do-it-yourself kits available at stationery supply outlets with standard fill-in-the-blank options that don't provide any flexibility. Increasingly, online platforms like Willful have provided an option in the middle that offers a more tailored experience.
The rise in popularity of online will writing platforms has raised a number of questions in the minds of consumers. How are they different? When are they the right fit? And which option should I choose for my situation?
In order to determine which method is right for you, it's important to consider three things: the complexity of your situation; your budget; and the type of experience you want (in person vs. online).
While cost-effective, holograph Wills and DIY Will kits don't allow for customization, and can lead to errors and omissions. They also don't account for any complex situations you may need to address.
If you're looking for options that allow for more customization and guidance, you will likely be deciding when to use an online Will writing service and when to engage the services of a Wills and Estates lawyer.
When to Use Online Will Writing
Online Will writing platforms like Willful are ideal for people with simple estates. If you're not sure if your estate is simple enough, just ask. Our goal is to ensure Canadians get a Will – we'll be the first to highlight when a lawyer may be needed due to complexity.
Here is an initial checklist for those considering using an online platform:
– You own property in Canada
– You have assets/investments in Canada
– You're single or you have a spouse/common law partner
– You have a child or children
– You want to leave specific gifts, for example art or jewelry
– You have a pet and want to assign a guardian and/or leave a part of your estate to that guardian for their care
– You want to leave a cash gift or percentage of your estate to charity
– You don't have any complex "if this then that" scenarios
– You have several beneficiaries you will split the estate amongst, but don't need to create any unique stipulations
– You want to create power of attorney documents in order to dictate what happens if you become ill or incapacitated, sometimes known as a Living Will
The benefits of going online are clear. Platforms like Willful are affordable, convenient, easy to use, and are a time saver – they can take as little as 20 minutes as long as you've made a few key decisions about roles in your Will.
When to Use an Estate Lawyer
Estate lawyers continue to play an essential role in the Will writing process, and they provide the most comprehensive and customizable estate planning services.
Here is a checklist for those who should engage an estate lawyer for their Will:
– You have a complex estate including "if this, then that" scenarios that you would like to include in your Will
– You want to speak with someone to get legal advice about your specific situation
– You own property or assets outside Canada and need multiple Wills to address assets in multiple jurisdictions
– You have a business and would like to create a dual Will
– You want to set up specific or unique rules around your minor child's trust (for example Willful allows you to dictate at which age they will receive their inheritance, but if you'd like to create a tiered payout structure, you would need to visit a lawyer)
– You have a child with a disability and need to set up a Henson Trust, or you require any other complex trusts beyond a simple testamentary trust
– You have a blended family – Willful may not be right for people with blended families, as even in the most straightforward of cases (i.e. passing to spouse, then splitting everything amongst all children of both spouses) there may need to be special considerations made
– The online platform you wish to use is not available in your province (for example Willful is available to those living in Ontario, BC, Alberta, Saskatchewan, Manitoba, Nova Scotia, and New Brunswick)
Finally, if you are wondering what makes a Will legally-binding, here are the criteria that must be met:
– Written by you in sound mind – unfortunately you can't pass this task off to someone else
– Signed with a wet signature, which means you must print your will and sign it in ink
– Signed by two witnesses, both of whom are present when the document is signed, and both of whom do not benefit from your estate (spouses who are beneficiaries cannot sign as a witness) – it's important to note that due to COVID-19, several provinces are allowing virtual witnessing under their provincial emergency orders
That's it – there's no requirement that a Will has to be made by a lawyer, but you may want to visit one if you have complexity to your situation, or if you want legal advice. Otherwise, a platform like Willful may be a good fit for you. You can learn more about making a Will in Canada here.
If you have more questions about online will platforms, you can reach out to the Willful team at 1-(888)-213-0516, email hello@willful.co, or visit willful.co/learn to get more information or live chat with the team.